Rustic Weddings
The rolling green hills of Maggie Malick's Wine Cave vineyards is the perfect destination for your rustic wedding in the vineyard, adjacent to one of our reflecting ponds or the banquet hall. If you have any questions or would like to tour our venue, just contact us.  You can call us at 540-905-2921.
Nestled in northern Loudoun County's Between the Hills Valley, Maggie Malick's Wine Cave vineyards offers unique outdoor wedding venues for all couples, as well as a banquet hall.  We have:
Scenic Wedding Locations

Winery Wedding Services

​

Wedding Rentals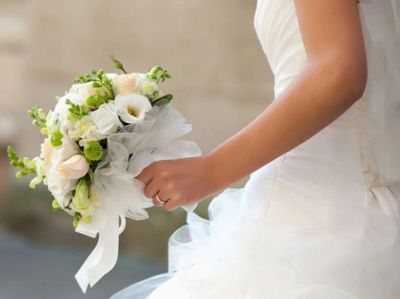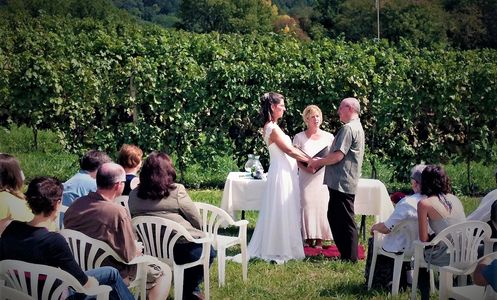 Renting the Venue 
Maggie Malick's Wine Cave charges a base rental fee for each wedding event, plus the purchase of a minimum of any two cases of Maggie's award-winning wines.
Note: Depending on the wedding venue selected, you may choose to add additional tents, restrooms or lighting to enhance your ceremony and reception. Maggie Malick Wine Caves is happy to work with you, your wedding planner and outside vendors, to make your wedding a magical memory for years to come.
Outside Alcohol
Private groups and wedding may arrange for outside alcohol only by obtaining a Virginia ABC Banquet License.
Romantic Locations
Vineyard Vows
You can get married amidst some of the 30 acres Maggie has dedicated to growing grapes for our award-winning boutique wines. Your vineyard wedding will overlook the Blue Ridge Mountains to the west and one of our estate ponds. You and your guests will be surrounded by arching vines and the sky's high ceiling which dovetail to create an intimate, outdoor room setting.
Grassy Terraces
Maggie also offers couples an open-air amphitheater setting on the north side of the estate. The wedge-shaped amphitheater has grass terraces, scenic views of the Blue Ridge Mountains to the west and Short Hill Mountain, located next to the Wine Cave. This venue is recommended for those wishing for a more rustic setting.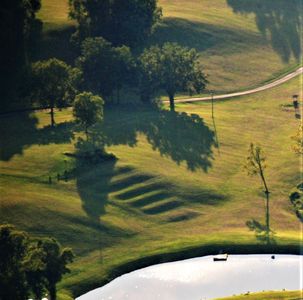 Banquet Hall
Our banquet hall can seat 125 persons, with plenty of room for caterers.  There is ample room for catering equipment, such as warmers and preparation tables.  We do not charge a fee for outside food companies.
Make your own magic
Our venues can be dressed up as much or as little as your wedding planner wishes to create for you. Venues are available at specific times, depending on your setting selection.
The vineyard and amphitheater venues are available any time. However, wedding events, dependent on the Wine Cave venue, are available after 6 p.m.  There are no onsite catering facilities. However, we do NOT charge any catering fees to your food provider/vendor who serves at our facility.