Professional medals and awards
Maggie Malick Wine Cave wines regularly compete and win esteemed wine competitions around the country. Our winemaker won over a hundred new wine awards in the past two years.
A list of Maggie's recent wins is below but you can check out her visitor testimonials, too!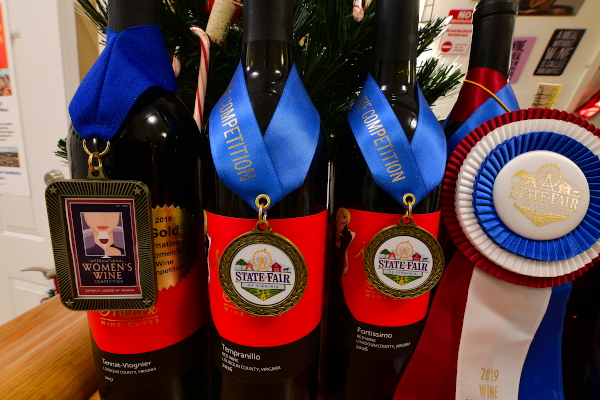 2021 Great American International Wine Competition
Platinum Medal
2020 Dry Petit Manseng
Gold Medals
2020 Albarino Reserva
2020 Albarino
Silver Medals
2020 Unoaked Chardonnay
2020 Viognier
2020 Rose
2020 Tango
Bronze Medals
2018 Petit Verdot
2018 Tannat
2021 San Francisco Chronicle Wine Competition
Best of Class
2017 Tannat
Silver Medals
2017 Fortissimo
2019 Viognier
2019 Petit Manseng
2017 Mourvedre
2019 Tango (Port style)
Bronze Medals
2017 Petit Verdot
2017 Captains Cuvee
2020 Las Vegas Global Wine Awards
Platinum Medal
2017 Malbec, 94 points
Silver Medals
2017 Tannat
2017 Kaleidoscope
2020 American Wine Society
Best of Show, Best White Vinifera, Best Viognier
2019 Viognier, 93 points
Best Petit Manseng
2019 Petit Manseng, 93 points
Best Albarino
2019 Albarino, 93 points
Silver Medal
2017 Fortissimo
2017 Tannat
2017 Captain's Cuvee
2017 Petit Verdot
Bronze
2017 Cabernet Franc
2017 Merlot
2020 Loudoun Wine Awards
Chairman's Grand Award – Highest Honor
Petit Manseng 2019
Best of Class
White Vinifera — Petit Manseng 2019
Viognier — Viognier 2019
Red Vinifera — Fortissimo 2017
Gold Medals
Fortissimo 2017
Petit Manseng 2017
Silver Medals
Albariño 2019
Captain's Cuvèe 2017
Mourvèdre 2017
Petit Verdot 2017
Viognier 2019
2020 International Women's Wine Competition
Double Gold Best of Class 94 points
2019 Petit Manseng
Silver Medals
2019 Duet
2017 Kaleidoscope
2017 Malbec
2019 Rose'
2019 Sunset Sonata
Bronze Medals
2017 Merlot
2019 Viognier
2020 Finger Lakes International Wine & Spirits Competition
Gold Medals
2019 Viognier
2019 Albariño
Silver Medals
2016 Fortissimo
2017 Kaleidoscope
2017 Malbec
2017 Petit Verdot
2017 Tannat
2019 Petit Manseng
Bronze
2016 Tempranillo
2016 Captain's Cuveé
2017 Captain's Cuveé
2018 Sauvignon Blanc
2019 Rosé
2020 Savor Virginia
Platinum
2019 Albariño
Gold
2017 Petit Verdot
2017 Captain's Cuveé
2017 Fortissimo
2019 Petit Manseng
Silver
2017 Kaleidoscope
2017 Malbec
2017 Merlot
2017 Tannat
2019 Rosé
2019 State Fair of Virginia Wine Competition
Best in Show – Reds
2016 Tannat
2019 New York World Wine & Spirits Competition
Gold Medal
2016 Petit Verdot
Silver Medal
2016 Kaleidoscope
2016 Tannat-Viognier
2016 Tannat
Bronze Medal
2018 Dry Petit Manseng
2016 Tempranillo
2019 State Fair of Virginia Wine Competition
Gold Medal
2016 Fortissimo
2016 Tempranillo
2016 Tannat
Silver Medal
2016 Kaleidoscope
2018 Dry Petit Manseng
2019 Virginia Governor's Cup
Silver Medals
2016 Petit Verdot
2016 Cabernet Franc
2017 Viognier
2018 San Francisco International Wine Competition
Silver Medal
2017 Albarino
2015 Petit Verdot
2015 Captain's Cuvée
2015 Tannat
Bronze Medal
2015 Kaleidoscope
2015 Fortissimo
2018 New York World Wine & Spirits Competition
Double Gold; Best White in show, Best Spanish Wine
2017 Albarino
Bronze
2017 Viognier
2019 International Women's Wine Competition
Gold Medal
2016 Garnacha
2017 Tannat-Viognier
Silver Medal
2018 Rosé
2016 Kaleidoscope
2016 Petit Verdot
2018 Sauvignon Blanc
2019 Indy International Wine Competition 
Gold Medal
2018 Dry Petit Manseng
2016  Mourvèdre 
Silver Medal
2018 Sauvignon Blanc
2016 Petit Verdot
2016 Tannat
2016 Fortissimo
2019 San Francisco Chronicle Wine Competition
Gold Medal
2016 Kaleidoscope
2016 Petit Verdot
2017 Viognier
Silver Medal
2016 Garnacha
2018 Loudoun Wine Awards
Gold Medal
2017 Viognier
2017 Albariño
Silver Medal
2015 Cabernet Franc
2015 Petit Verdot
2015 Tannat
2017 Sauvignon Blanc
2018 Women's International Wine Competition
Gold Medal
2017 Viognier (92 points)
​Silver Medal
2017 Albariño
2017 Petit Manseng
2017 Rosé
2017 Sauvignon Blanc
2017 Sunset Sonata
2014 Tannat
Bronze Medal
2015 Petit Verdot
2015 Merlot
2015 Tannat
2018 State Fair of Virginia
​Gold Medal
2017 Albariño
2015 Petit Verdot
2017 Viognier
Silver Medal
2015 Fortissimo
2017 Rosé (also tied for Best of Show!)
2015 Tannat
2018 Finger Lakes International Competition
Silver Medal
2015 Petit Verdot
2016 Petit Manseng
Bronze Medal
2015 Tannat
2015 Captain's Cuvee
2016 Viognier
2015 Kaleidoscope (Bordeaux-style blend)
2018 San Diego International Wine Competition
Gold Medal
2015 Petit Verdot
Silver Medal
2015 Tannat
2016 Petit Manseng
2018 Eastern International Wine Competition
Silver Medal
2015 Chardonnay
2017 Indy International Competition
Silver Medal
2016 Albariño
2016 Petit Manseng
2014 Petit Verdot
2014 Tannat
2016 Viognier
Bronze Medal
2013 Garnacha Tinto
2016 Mourvedre, Cab Sauv Rosé
2015 Petit Manseng Sweet Reserve ​
2017 Finger Lakes International Wine Competition
Gold Medal
2014 Meritage
Silver Medal
2015 Chardonnay
2015 Viognier
2015 Petit Manseng
2014 Petit Verdot
Bronze Medal
2014 Cabernet Franc
2017 Virginia's Governor's Cup
Silver Medal
​2014 Fortissimo (Wine Club members exclusive, sold out)
2014 Meritage
2014 Petit Verdot
Bronze Medal
2014 Cabernet Sauvignon Reserve
2014 Cabernet Franc Reserve
2014 Captain's Cuvée
2016 Eastern International Wine Competition
Gold Medal
2015 Viognier
Silver Medal
2015 Chardonnay
2014 Petit Verdot
2014 Cab Franc Reserve
Bronze Medal
2014 Fortissimo
2018 Virginia Governor's Cup
​Silver Medal
2015 Petit Verdot
2015 Merlot
2018 San Francisco Chronicle Wine Competition
Gold Medal
2015 Petit Verdot
Silver Medal
2016 Viognier
2015 Merlot
Bronze Medal
2014 Petit Verdot Reserve
​2017 San Francisco International Wine Competition
​Double Gold Medal, Best of Show for Tannat
2014 Tannat (95 points)
Bronze Medal
2014 Petit Verdot
​2016 Viognier
2015 State Fair of Virginia
Gold Medal
2012 Tannat

Silver Medals
2014 Albarino
2012 Meritage
2012 Cabernet Sauvignon 
2014 Indy International Wine Competition
Silver Medals
2011 Petit Verdot
2011 Tannat
​​2012 Viognier

Bronze Medals
2011 Viognier
2011 Merlot 
2015 Indy International Wine Competition
Gold Medals
2012 Petit Verdot
2012 Tannat
2014 Viognier

Silver Medals
2014 Albarino
2012 Cab Franc
2014 Petit Manseng
2015 San Diego International Wine & Spirits Challenge
Gold Medals
2014 Petit Manseng
2012 Petit Verdot
2015 Virginia Governor's Cup
Silver Medal
2012 Petit Verdot
​2016 San Francisco Chronicle Wine Competition
Silver Medal
2012 Petit Verdot
2014 Albariño
2016 Loudoun Wine Awards Competition
Silver Medal
2015 Petit Manseng
2015 Eastern International Wine Competition
Reserve Class Champion
2014 Petit Manseng
2012 Cabernet Franc
2012 Cabernet Sauvignon
2012 Garnacha Tinta
2012 Petit Verdot
2012 Meritage