Award-winning wine starts on the vine…
Maggie Malick Wine Caves is a 100% female-owned, Loudoun County, VA, boutique winery featuring estate-produced, award-winning wines.
All our grapes are grown and made into wine right here on a beautiful 215-acre estate with rolling hills and four ponds, located next to Short Hill Mountain in the Blue Ridge of Northern Virginia.
Mark, Maggie's husband, is our viticulturalist, which is just a fancy way of saying that he grows the grapes.   In 2019 he was presented the Loudoun County Wine Grower of the Year Award.
We have 15 varieties of Old World vines, or vitis vinifera, which are renowned in the industry for making the best wines, We have more than  30,000 hand-tended and hand-harvested vines on 30 acres.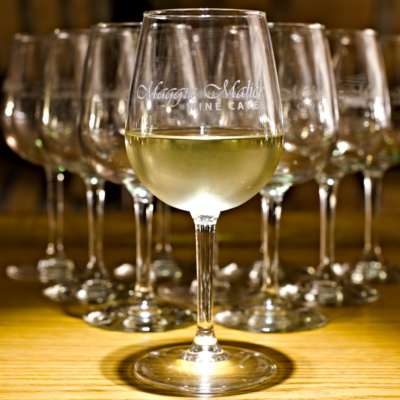 Whites
Viognier- most people trip over the pronunciation of this grape (vee-o-nyay). But that's the only tricky part of this full-bodied wine that originated in the Rhone Valley of southern France and grows well in northern Virginia.
Chardonnay – is a green-skinned grape that makes one of the most popular wines. Maggie currently has oaked and stainless options. Taste the difference!
Albariño – a crisp, dry white wine. The grape originally was grown in Spain's coastal Rias Baixes wine region.
Sauvignon Blanc – this green-skinned grape is an indigenous grape in Southwest France. It's name, translated to "wild white", hints at its early origins, found growing in the wild.
Petit Manseng – Originating in Southwest France, this small grape is known for its rich, sweet wines with aromas of tropical fruits. Maggie has made sweet, semi-sweet, dry and sweet dessert varieties of this wine.
​​Reds
Cabernet Sauvignon – this is one of the most well known red wine grapes that is from the Bordeaux region of France. It often is blended with Merlot or Cab Franc. It actually is a cross of Cabernet Franc and Sauvignon Blanc grapes.
Cabernet Franc – this is a black grape with a peppery flavor and, typically, is grown for blending with Cabernet Sauvignon and Merlot in France's Bordeaux region.
Merlot – is a fleshy, dark-blue grape also grown in France's Bordeaux region. It has a natural acidity and red fruit flavors (raspberries, strawberries).
Petit Verdot – this small black, Bordeaux-grown grape ripens later than others and delivers bold-yet-floral flavors and tannins, naturally found in the skins, seeds and stems.
Tannat – a rich, red wine grape, historically grown in South West France and Northern Spain, has made its mark in Uruguay where it also grows well. It has deep dark colors, raspberry aromas and typically ages well.
Garnacha Tinta – known in Spain as red Garnacha; it is Grenache in France. We just call it spicy, berry-flavored and soft on the palate. It often is used as a blending wine. The most famous blend is Garnacha, Syrah and Mourvèdre (GSM), or a Chateauneuf-du-Pape-style wine, which Maggie makes. She calls her estate-grown GSM Captain's Cuvee.
Syrah – is a dark-skinned grape grown in the Rhone Valley. It has jammy fruit and licorice flavors and often is used for blending with other varieties.
Mourvèdre- can be a difficult grape to grow but it is a favorite of Maggies's husband, Mark. Mourvèdre is grown in Spain and France and is a prominent component in "GSM", or a Grenache, Syrah, and Mourvedre blend. It produces tannic wines that mellow with age. (Don't we all?)
Malbec – is a deep purple, thin-skinned grape with a dark inky color and robust tannins. It is grown in France's Bordeaux region.
Tempranillo – is a black grape used to make full-bodied wines. Originating in Spain, it ripens earlier than most grapes and, in fact, its name is a diminutive of the Spanish word for "early" (temprano).