View Our Dog Events Listing
We Are Dog-Friendly
Our staff includes resident Wine Cave Dogs are Moxie and Jet, whom, often, are mingling and socializing with other canines on property.  Please remember, despite what our dogs tell you, they are well fed. Please do not feed Moxie and Jet.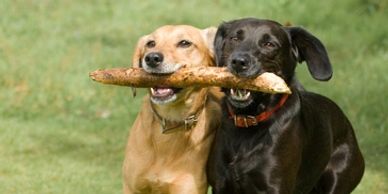 We host many dog events. Click here for our dog events listing:
Chesapeake Dock Dogs
Practice sessions
LabFest
PondFest
Australian Shepard Meetups (New!)
Annual Goldendoodle Romp (TBD)
NOTE: Animal owners and their dogs are welcome on the vineyard grounds at Maggie Malick Wine Cave. All dogs must be leashed at all times and are the sole responsibility of its owners, during any winery visit.  Thank you!
Other Dog Meetups
Please call us about arranging a meetup event for your dog's breed. 540-905-2921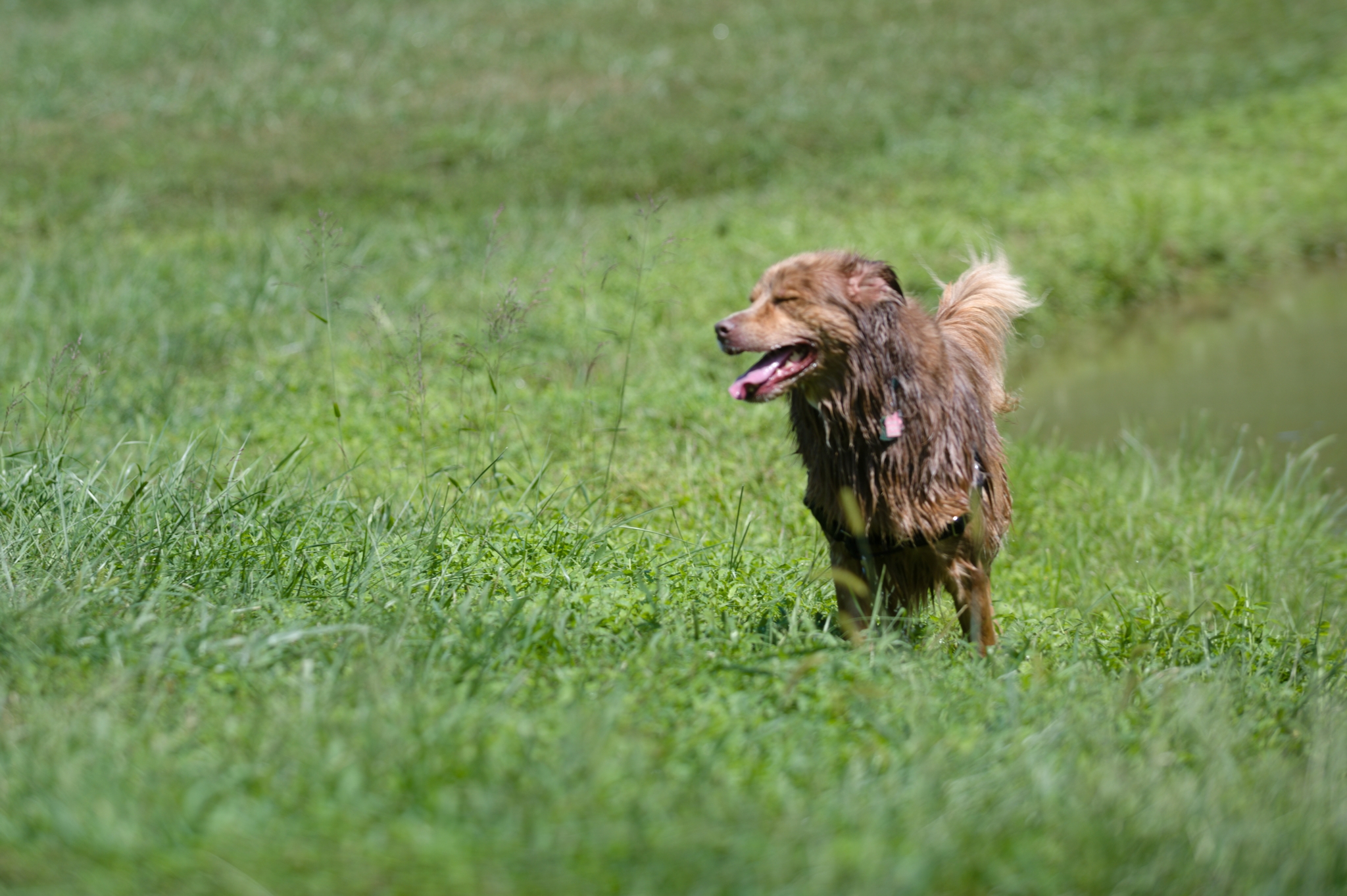 Maggie Malick Wine Caves & Chesapeake DockDogs
This is the local chapter of the premier canine aquatics competition,  manages Dock Dog competitions at one of Maggie's winery four ponds.
The CDD group built a regulation 40-foot dock for their jumping competitions.
If your dog is looking to learn dock jumping, try the pond just below the Cave, which features a small dock.  ​
​​Do you think your dog could be a contender at competitions?  ​Check www.ChesapeakeDockDogs.com for more information or visit their Facebook page. Maggie Malick Wine Caves is a proud sponsor of DockDogs events, but we are not affiliated. Chesapeake DockDogs is happy to can answer all your dog competition questions.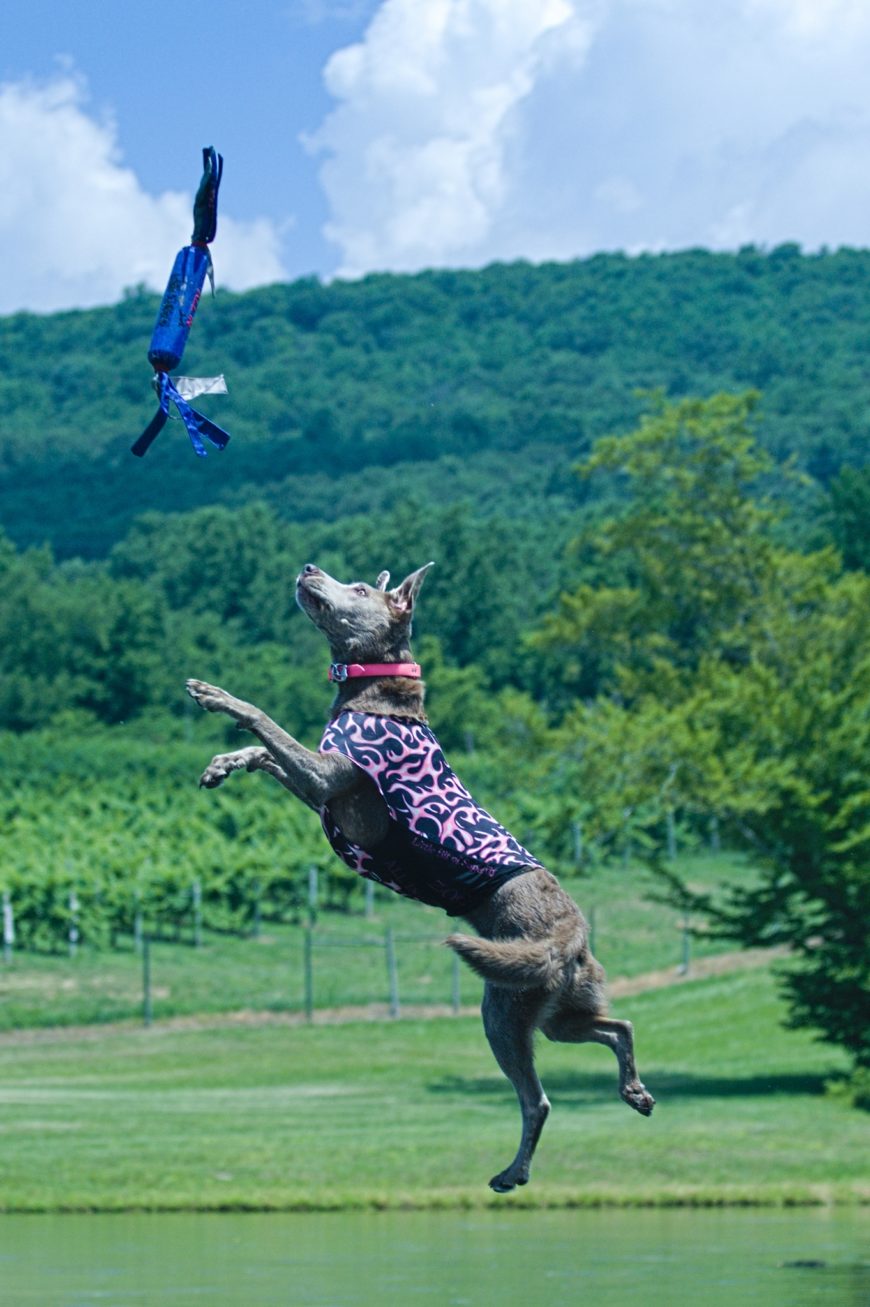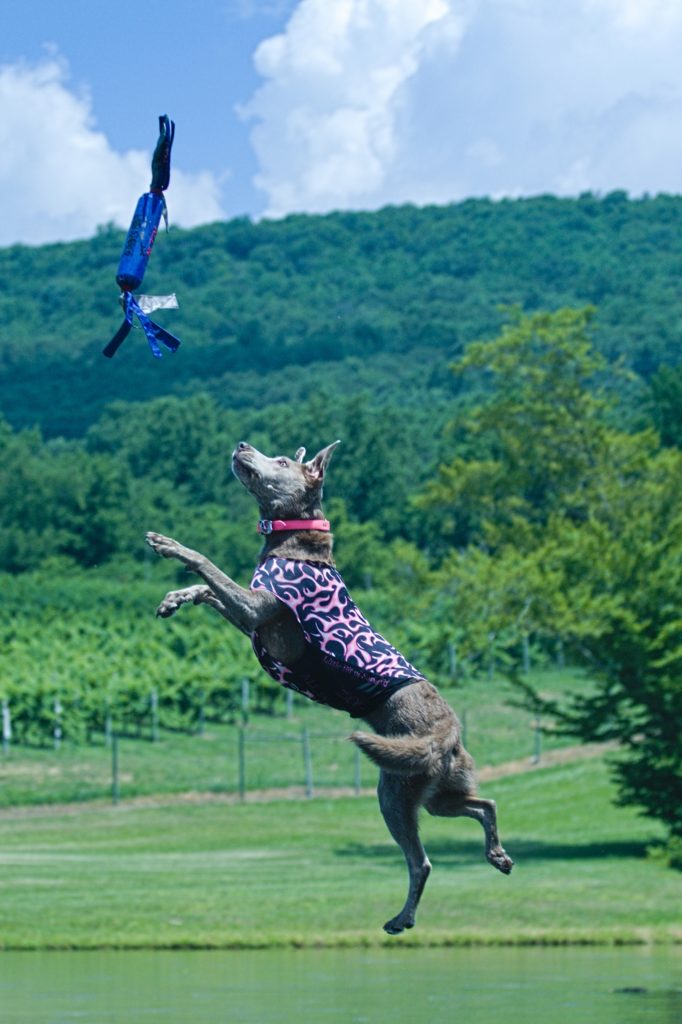 Competition/Practice
While we allow people to practice dock jumping for their dogs, please call ahead (540-905-2921), if you wish to be on property during the week, to make sure we are not planning maintenance or mowing in the area.
* At all DockDog events there is a 40 foot dock with a 40 foot pool.  The dock is 24 inches above the water, this is the standard distance the remains constant for judging purposes.
To begin the first thing you need when attempting your first few jumps off the dock is a floatable toy.  Any toy that floats is acceptable by DockDog rules.  The best toy to use is one your dog is wild for, that way when you throw it in the pool he actually wants to jump in to get it!  Making sure your dog has some "toy drive" and enjoys the water are two key components with DockDogs put those two together and you've got a great dock diving combinations.
Handlers may use any technique to get their dog into the water, we do not allow, pushing, pulling or throwing of the dogs into the pool.  This will result in a no score in an event.  You may however lay down on the dock, splash the water and make as many encouraging sounds/motions as you like!  You may use any throwing technique as well.  Some people prefer the chase method and have their dogs sit at the end of the dock and dive into the pool while the toy is in mid air.  Other people prefer a "fly ball" method of throwing the toy, taking the dog back on the dock, revving them up and releasing the dog.  The trick is to try out various methods and see which works best for you and your dog.  The only rule about this is that in competition you only get 60 seconds from when your dog sets foot on the dock until the dog is in motion into the pool. If it takes you longer to get the dog in at this point there will be a Timeout.
Distance is measured from the base of the dog's tail.  At club events they are judged manually by two certified judges, at a National event they are judged electronically by a computer that freezes frame by frame.  Both methods are very accurate.
Once your dog has figured out the name of the game you can take the time to perfect your own skills such as throwing….any handler will tell you "it's all in the throw"!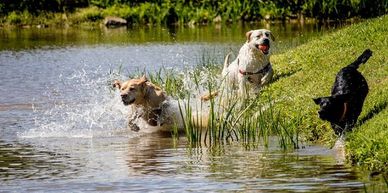 LabFest
Both winery dogs, Jet and Moxie, are lab rescues.  That's why we are so grateful that our 2019 LabFest visitors helped us raise nearly $1,100 for LabRescue, from a portion of our winery's LabFest sales. 
 Lab Rescue of the LRCP (Labrador Retriever Club of the Potomac) is a volunteer, nonprofit organization that rescues, fosters and places homeless, abused, and/or abandoned Labrador Retrievers.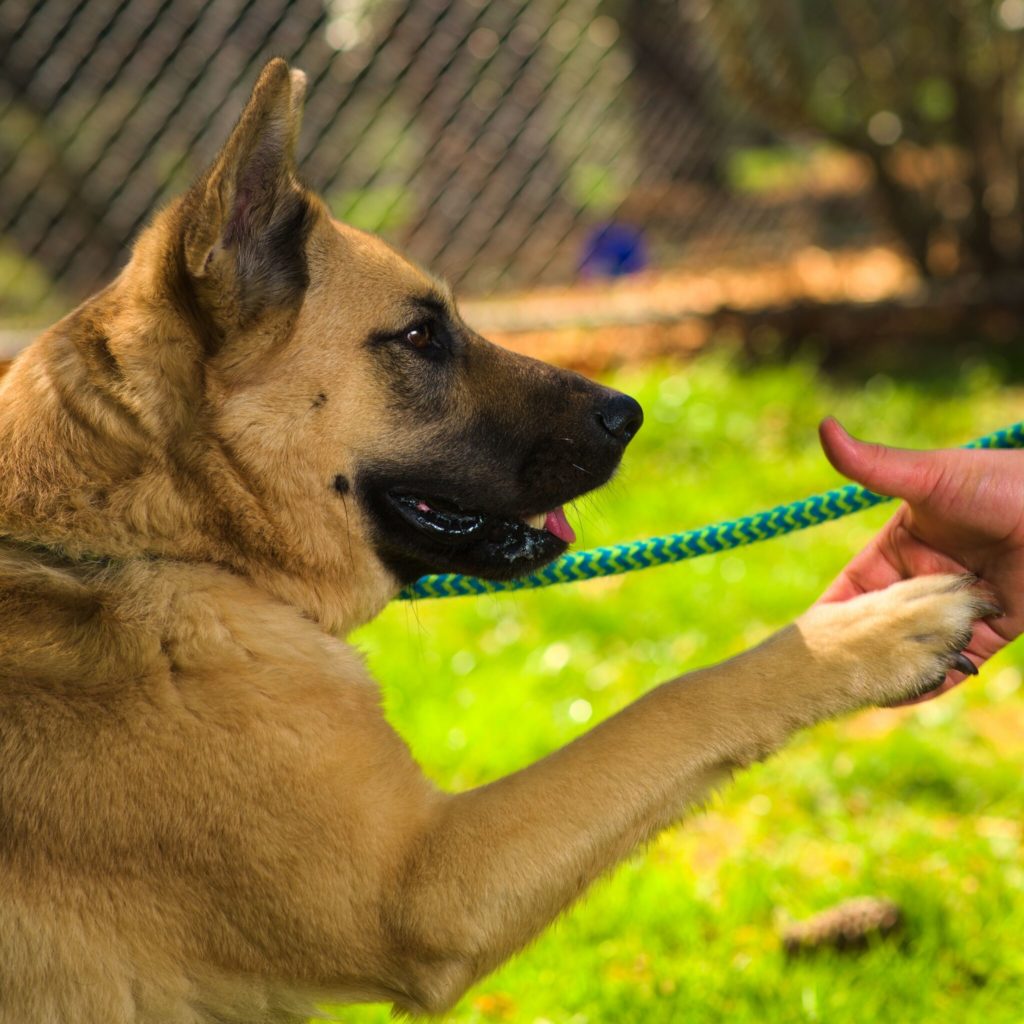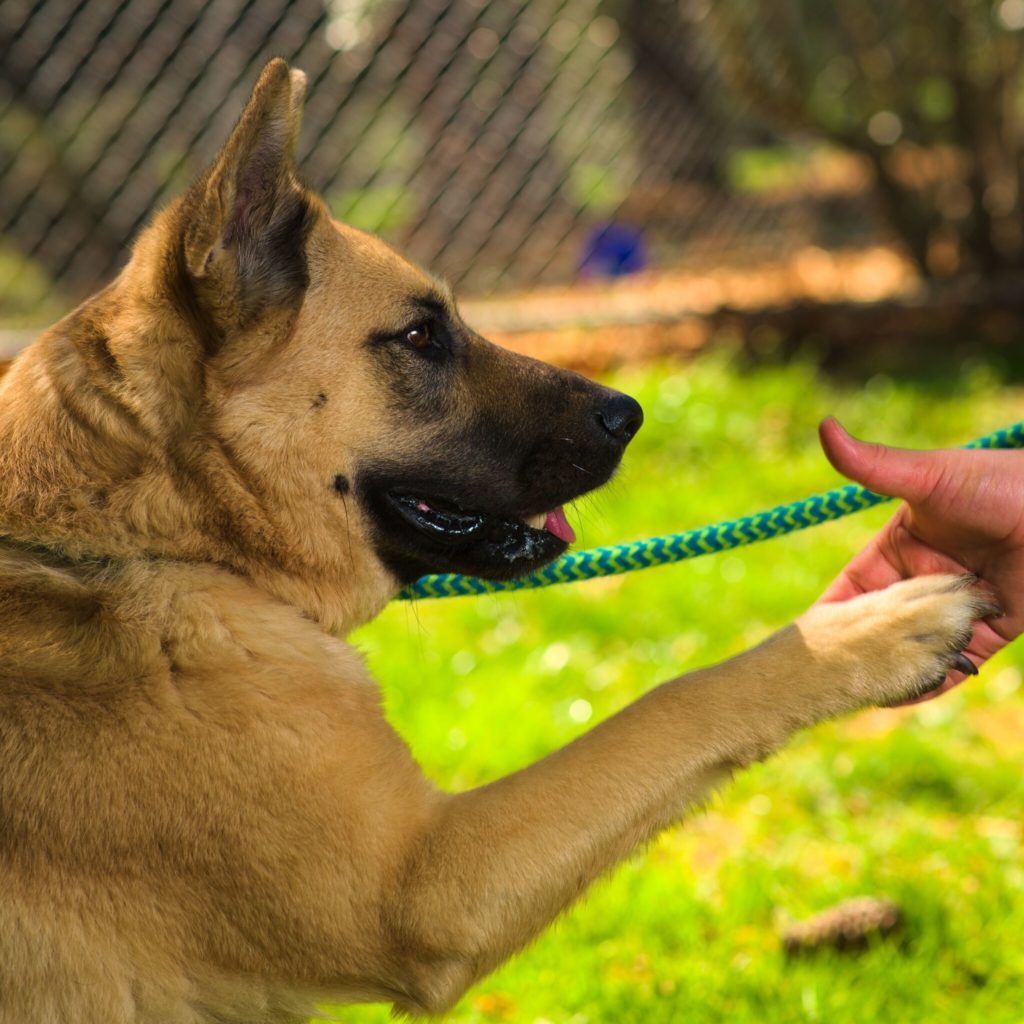 Need a place to stay with your dog?
We've got some recommendations for nearby hotels.
Here's a list of where DockDog competitors stay while they compete in events at Maggie Malick Wine Caves.

Pond Fest Weekend 

 
Some of the top-ranked dog teams in the world will compete across all levels and disciplines for jumping height and distance at Maggie Malick Wine Caves winery in Purcellville, VA.
Chesapeake DockDogs is the only dock-jumping dog club to have a home dock in a natural setting, against the backdrop of 30 acres of green vineyards. Dock jumping also known as dock diving is a dog sport in which dogs compete in jumping for distance or height from a dock into a body of water. Dock jumping events have been held in the United States since 2000, and has been broadcast on ESPN.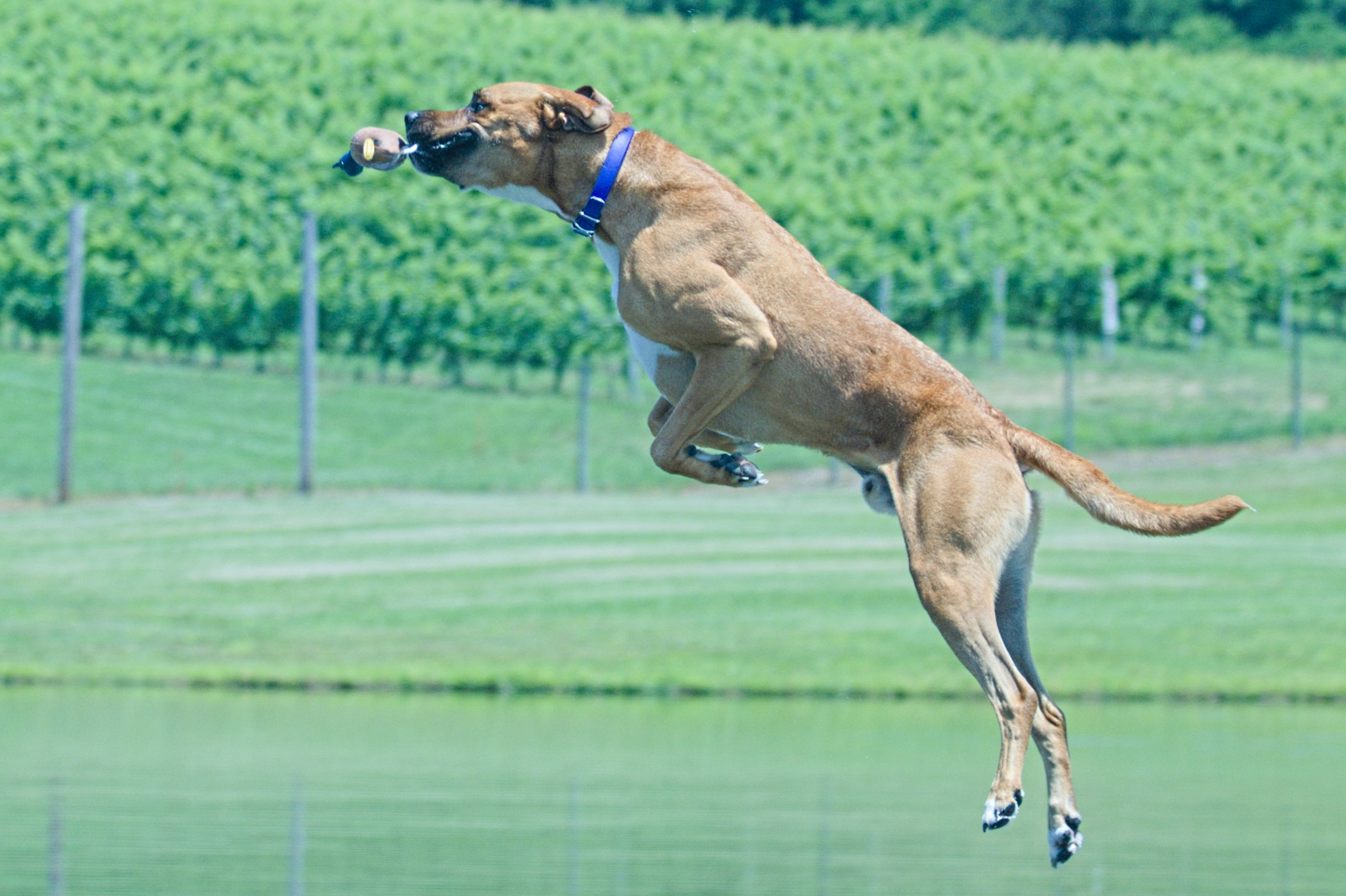 Dogs Events on Our Calendar